Glory Star's Customer Mining Method and System Awarded China National Invention Patent
BEIJING, Sept. 12, 2023 (GLOBE NEWSWIRE) -- Glory Star New Media Group Holdings Limited, ("Glory Star", the "Company" or "we") (NASDAQ: GSMG), a leading provider of next-generation mobile internet infrastructure and platform services, today announced the acquisition of an invention patent certificate from the National Intellectual Property Administration. The patent, granted to Glory Star's subsidiary CHEERS, is titled "Customer Mining Method and System Based on Customer Behavioral Characteristics," which propels the Company to the forefront of technological innovation in the field of customer acquisition.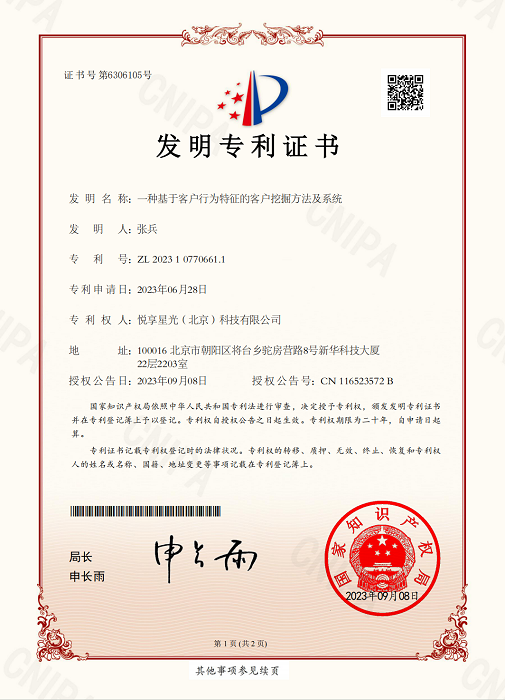 This patent marks a significant milestone, underscoring Glory Star's unwavering commitment to research and development excellence. It encompasses a comprehensive range of cutting-edge features, including data collection, data preprocessing and analysis, customer clustering and mining, and result visualization. By harnessing the power of data analysis and AI technology, businesses gain unparalleled insights into customer needs and behavioral patterns, enabling them to enhance market competitiveness and elevate customer satisfaction to new heights.

"We are thrilled to have achieved this national invention patent for our revolutionary Customer Mining Method and System," Mr. Bing Zhang, Chairman and CEO of the Company, commented. "This prestigious recognition validates our position as a technological powerhouse, blazing trails and reshaping the industry with our innovative solutions. Our patent solidifies our leadership in delivering transformative technologies to our valued clients."